Terrafirma
Terrafirma is mapping tool for Terraria.
It gives block information in the statusbar as you hover, lets you zoom and pan around your map, and can save your map out as a png.

If "Use Textures" is grayed out, it's because the program can't find your Terraria directory. Go to Help » Settings and adjust your paths, then restart Terrafirma.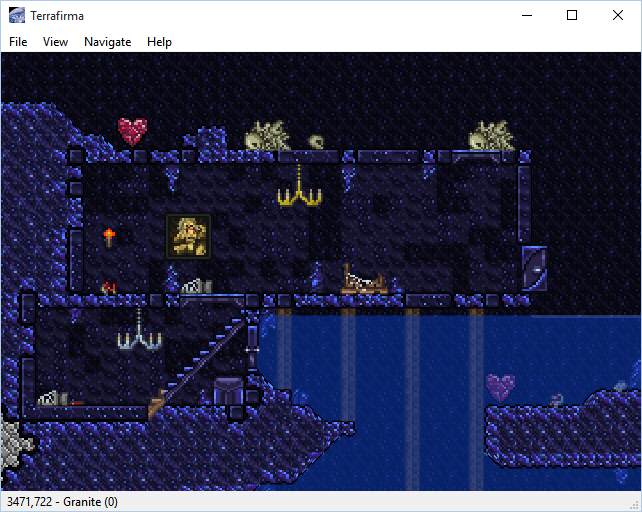 Demonstration
Controls
Pan

Click and drag, or use arrows or WASD
Hold shift to pan faster, hold control to pan really fast

Zoom

Scroll wheel, or use Q/E

Inspect

Mouse over the block to identify it in the status bar
Right click on chests and signs for more information
Technical Details
.wld File Format
Terraria Network Protocol
Texture UV Mapping
Useful Utilities
xnb2png - unix command-line utility to convert xnbs into pngs
xnb2shader - unix command-line utility to decompile an xnb pixel shader



Changelog
Version 3.0.10
Updated for 1.3.2
Fixed bug where chests weren't updating when you changed maps
Added filters on various dialogs.. thanks guys!
Version 3.0.9 Version 3.0.8
Fixed logic sensor entity loading
Version 3.0.7 Version 3.0.6
Displays an error if GL is out of date
Version 3.0.5
Added remote world support
Added missing tax collector
Version 3.0.4
Fixed wire drawing
Sped up statusbar
Version 3.0.3
Fog of war exclusion was too aggresive
Version 3.0.2
Updated for terraria 1.3.0.8
Version 3.0.1
Fixed bug with female armor stands
Fixed bug with fog of war
Version 3.0
Rewritten to support Linux and OSX as well.
Supports Terraria 1.3.0.7
Uses OpenGL for rendering
You can now specify the terraria folder and default world folder
Version 2.2.2
Updated for Terraria 1.2.3.1
Tries the default steam folder if it can't find a steam entry for terraria
Version 2.2.1
Added new blocks from Terraria 1.2.3
Added support for new map format
Upside-down slopes sort of work
Shows chest names
Bug: New paint colors don't draw properly
Bug: Server support disabled temporarily
Bug: Fog of War temporarily disabled
Version 2.1.3
Added new christmas blocks, hopefully christmas trees work too
Version 2.1.2
Bug fix on finding textures folder via steam config
Version 2.1.1
Added blocks from 1.2.1.2
Works with multiple steam install dirs
Version 2.1
Added halloween blocks
Fixed armor scaling
Improved liquid drawing
Added painted tiles
Version 2.0.3
Handles missing textures and fog of war maps more gracefully
Version 2.0.2
Fixed warning about lihzahrd walls
Version 2.0.1
Fixes a crash from old player files
Renamed a few tiles
Tweaked the server connection code a little
Version 2.0
Supports 1.2 map format and new tiles
Sloped tiles, half tiles
Optional fog of war prevents you from spoiling the map
Unique world backgrounds
Easy-access toolbar for lighting and block highlighting
Item finder to quickly find items in chests
Cleaned up wall drawing, should be more accurate
Version 1.9.8
Made map changes for Terraria 1.1.2
Version 1.9.7
Restructured tiles to reduce memory usage
Version 1.9.6
Added experimental server support
Uses Any CPU, for native 64-bit on 64-bit machines
No longer requires XNA for texture support
Fixed background tiling
Doesn't lock open files, so won't interfere with Terraria
Lighting is now done in the background
Version 1.9.5
Added a world information window
Added a Jump to Dungeon menu item
Version 1.9.4
Changed tile format to use less memory
Loading now shows progress
Version 1.9.3
Armor now faces the correct direction.
Also fixed a possible armor crash
Version 1.9.2
Fixes glass walls
Fixes the display of hallowed trees
Attempt to fix the memory leak.
Will abort loading the world if it runs out of memory
Version 1.9.1
Warns if there are invalid tiles or walls, and then skips over them
Version 1.9.0
New blends supported
Colored lighting supported
Toggle wires display
Handles new trees
Draws armor on mannequins
Draws NPC home banners
Displays prefixes in chests
You can now hilight variation tiles
Shows variation tile names
Handles Santa NPC
Version 1.8.3
Added christmas blocks from 1.1.1
Version 1.8.2 Version 1.8.1
Added support for Terraria 1.1
Version 1.7.3
Added Sawmill from 1.0.6.1
Version 1.7.2
Fixed issue with drawing the clay bowl
Version 1.7.1
Fixed a texture overflow bug
Version 1.7.0
Added support for 1.0.6 tiles
Moved the update checking into a background thread
Version 1.6.8
Draws NPCs in their last known location
Texture mode defaults to ON if available
Fixed a possible crash bug if can't check for updates
Hilight mode no longer pulses
Lava and Water are now more opaque. Lava is now far brighter
Version 1.6.5
Added support for cactus and other 1.0.5 tiles
Added a lot more texture rules to blend between dirt and stone, for example
Installer now lets you choose install location
Version 1.6.1
Fixed i18n bug in xml parser
Open World list now uses actual world names
Lava and water now draw at the correct height in texture mode
Hilighting a block causes all others to darken.
Version 1.6
Trees and giant mushrooms now draw correctly (even the jungle trees in 1.0.4)
Lighting mode now works close to how the game does lighting.
You can now Save with textures, or just save part of a map
Version 1.5.2
Fixed texture crash on Intel graphis
Fixed bug so it now correctly identifies the block you're hovering over, regardless of whather you're using textures or not.
Will notify you at startup if there's a new version out.
Version 1.5.1
Attempts to locate steam via the registry.
Version 1.5
Experimental Texture Support.
Cleaned up the menus a tad.
Minor bug fixes
Version 1.0
You can right-click on chests and signs to see their contents.
There's an NPC sub-menu that will let you jump to the various NPC houses.
The list of tiles in the hilight window is now sorted alphabetically.
A hlighted tile now pulsates twice as fast to make it stand out more.
Shift+arrows = pan faster
Control+arrows = pan much much faster
Control+Shift+arrows = ridiculous
Water and Lava are now transparent
Background colors set a little better
There's now an .msi installer version
Version 0.6
Reload now in View menu
You can hilight all tiles of a type of your choosing